Summer Week 3
Hello Class 2 and welcome to another week of Home Learning. This week, I will only be sending learning activities until Thursday, as Friday is a Bank Holiday to mark the 75th anniversary of VE Day!
(I have uploaded lots of VE Day Activities at the bottom of this page for those of you who would like them!)
Have a look at some of the fabulous things people have been doing this week...
Thursday 7th May 2020
We have come to the end of yet another week of Home Learning! (We are a day early this week because of Friday's Bank Holiday.). I wonder if any of you are safely celebrating the anniversary of VE Day with your families?
I love looking at all of the wonderful work you are producing. You have really made a good start on our work on Egypt. It's good to see some of your descriptive and persuasive writing coming through in your tourist leaflets and brochures.

Up until the lockdown, Egypt was still a very popular holiday destination and I'm sure it will be again when we can safely travel overseas. I wonder if any of you or your families have ever visited Egypt? Thomas B sent us this photograph of his Grandad when he visited the country. Here he is meeting a professor at The Valley of the Kings...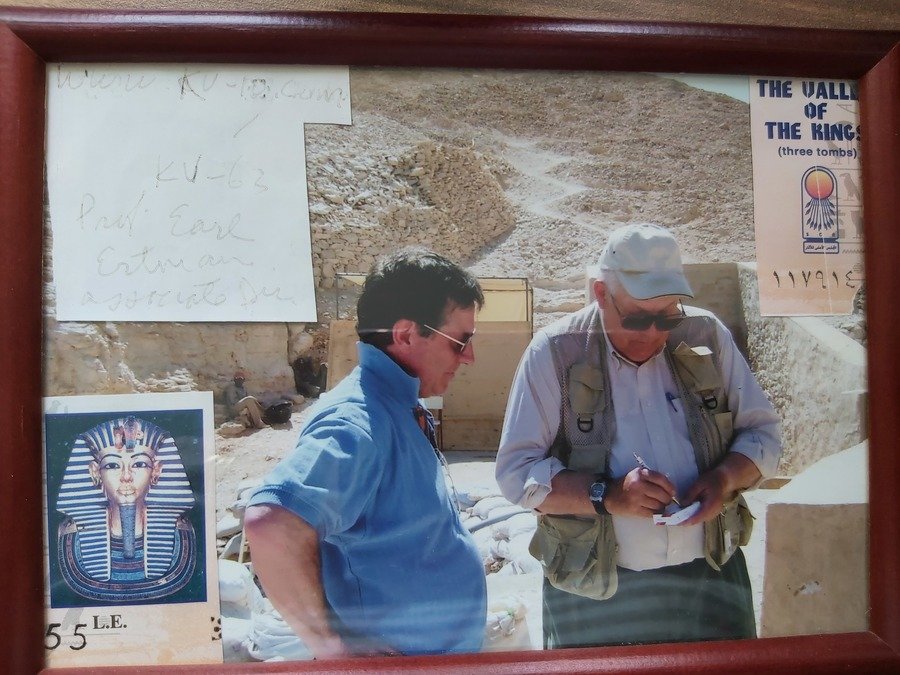 English/Topic
By now, you should have either made a really good start or completed your Book Review and your tourist poster, leaflet or brochure. These are looking great so far!
Maths
Well done for completing another week of Maths learning. I have uploaded arithmetic tests for tomorrow. Choose either the Year 3 or Year 4 test from the list below. You will find the answers at the bottom of the test. When you have completed it, why not play some Times Tables Rock Stars or have a look on the Top Marks website to see if there are any other games you would like to play?
VE Day
Don't forget that there are lots of VE Day activities at the bottom of this page if you would like to have a look at them. I have added some more today.
I hope you all have a wonderful, long weekend and manage to enjoy some sunshine - the weather is meant to be great for the next couple of days! I will be back next week with more learning activities.
Wednesday 6th May 2020
I hope you are all well and enjoying your learning activities this week. It's always lovely to have a look at the things you have been doing and I will keep putting these on our pages so keep them coming and make sure you check regularly.
Here are your learning activities for Wednesday.
Maths
Please complete the White Rose lessons below. These are our last White Rose lessons for this week. I will set something different tomorrow.
English
I hope you have all managed to find a book that you enjoyed listening to. I wonder if anyone has listened to more than one? Today, you should start to plan your Book Review. I found a useful website which gives some good tips on how to write one. Click on the link below and have a little read through to get some ideas about what you could include....
It's up to you how you would like to set out your review. Try to think about planning your review and think what you will include in each section (a bit like we did with the non-chronological report). You can use your own ideas or I have uploaded some example Book Review templates that you could use instead. You will also find a Book Review Checklist so that you can reflect on your finished work and think about all of the fantastic things you have included as well as how you could make it even better next time. I will look forward to reading these. Don't forget, this work is for Wednesday and Thursday so you should have plenty of time to get it finished.
Topic
Continue to work on your posters/leaflets/brochures.
Tuesday 5th May 2020
Maths
I hope you all got on well with your new series of Maths lessons yesterday. Here are the links to today's Maths learning activities.
English
I hope you all managed to find a book to listen to yesterday. I would like you to continue with this today, or you might even choose a different one, ready to start writing your book review ready for Thursday.
Topic
Now that you have completed your non-chronological report, I would like you to start something different. Using research you have already carried out and beginning to think about the features of Egypt itself (hot weather, beautiful beaches, fascinating landmarks, interesting history....) I would like you to produce either a poster, a tourist information leaflet or a tourist brochure to persuade someone to visit this country. Think about how you will engage your reader - catchy titles, eye-catching pictures, persuasive vocabulary, using questions to invite the reader in, for example, 'Have you ever visited a place as beautiful as this?', 'Have you ever wondered what Egypt is really like?' etc. You might want to have a look online at some examples of tourist posters and leaflets to give you some ideas. I will look forward to reading these!
Monday 4th May 2020
Maths
We will follow the next series of White Rose maths lessons again this week. I hope you are enjoying these. As I said last week, I think these are really good for helping us not only to recap on our learning but to move on with new skills.
English
I thought we would do something a little different this week being as it is a short week, so I would like you to have listened to a story (preferably one you don't already know) and complete a book review by the end of the week. Instructions for this are below...
Topic
You should all be familiar with where we are with our topic work but to recap, complete your non-chronological report and use the Success Criteria to check through it. If you have completed this already, you could have a go at some of the craft ideas that I posted last week, or you could do some extra research of your own.
VE Day Activities below....