'Feel Good Friday'!
'Feel Good Friday'!
12 January 2020 (by admin)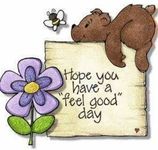 Our anti-bullying ambassadors have initiated 'Feel Good Friday' for this week (17th Jan).
Children are invited to wear non-uniform which makes them 'feel good'. This could be anything from trackies and trainers, PJs and slippers to something more 'party'. We are not asking for a fund-raising contribution. (Please ensure clothes are appropriate to wear to school ie no high heels, bare-midriffs, makeup etc.
Thank you