Meet our Mental Health Champions!
Meet our Mental Health Champions!
20 March 2023 (by cread)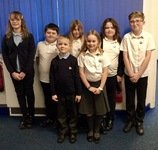 Our Mental Health Champions have completed their training. Through the exciting and empowering One Goal journey, they now have advanced insights into caring for their own mental health as well as supporting their peers. They are equipped with key skills and qualities to enable them to make a positive impact. Their next step will be to work with school staff to develop an action plan to promote positive mental health around school.