Music Concert
Music Concert
15 March 2023 (by admin)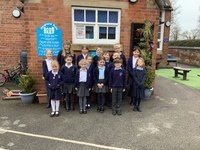 Pupils from our after school music clubs performed in a concert at The William Allitt School last night.
Our younger pupils played instruments and sang 'We Are the Vikings' and our older group sang 'Ocean Commotion' and 'Underneath the Sea'. The children were then given the opportunity to try out a new instrument.
All in all, it was a lovely evening and fabulous to see and hear our pupils participating at this exciting event - thank you to all of the parents who supported them - we were very proud!