School Council
School Council
30 September 2022 (by admin)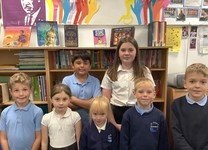 Congratulations to our democratically elected school council, who will be the voice of their classmates.
Their first task is to collect ideas from the children on how to spend the Netherseal Parish Council donation, following the Jubilee Art Competition.
They will then be helping Mrs Machell to audit the use of our playground to see if we can make any improvements.
We look forward to working together to make our school an even better place to be!