HARVEST
HARVEST
8 October 2020 (by admin)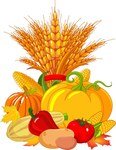 We would like to continue our tradition of celebrating Harvest Festival but clearly it will have to be very different this year…
We are planning to mark the occasion by saying a prayer for those who do not have the blessings of food, provision and nourishment. We will then sing one song on the playground (weather permitting) in our safe 'bubbles' as we leave school at 3:15pm on Thursday 22nd October. Parents/carers are kindly asked to avoid gathering at the gate and to continue observing social distancing.
We are very mindful of the financial hardship the coronavirus pandemic may have caused, and more than ever would like to come together as a community and support the Swadlincote Food Bank. If you would like to donate, we will establish a collection point at the school gate from Monday 12th October - this will allow us to 'quarantine' any offerings.
Items in short supply are as follows:
Tinned meats and meals
Tinned fruit
Tinned potatoes
Tinned spaghetti/ravioli
Jams
Deodorant
Shower gel
Thank you.
Have a good weekend.